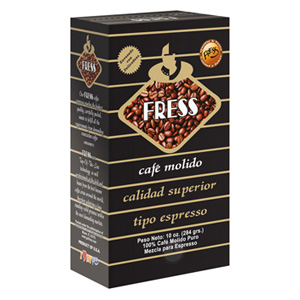 Producto de la selección de los mas finos y aromáticos granos de cafés venezolanos, es la marca de tradición en Venezuela por su trayectoria de mas 50 años en el mercado. Su empaque permite la conservación del aroma del café por mucho mas tiempo.
Presentaciones : 284 g. (10oz.)
El tradicional sabor de esta marca se ha degustado en Venezuela desde hace más de 50 años, teniendo siempre un importante lugar en el corazón de cada familia venezolana.
Product selection of the finest and aromatic coffee beans Venezuelans, is the mark of tradition in Venezuela for his career of over 50 years in the market. Its packaging allows the preservation of aroma of coffee for much longer.
Presentations: 284 g. (10oz.)
The traditional flavor of this brand has enjoyed in Venezuela for more than 50 years, always have an important place in the heart of every Venezuelan family.